Ford Veterinary Surgery Center has a fully equipped surgery suite designed specifically for large animals and a standing surgery area. There is also two fully padded induction and recovery rooms to assist in a smooth induction and recovery environment. A specially designed overhead hoist elevation system that elevates and transports the anesthetized patient to a surgical table designed for the large animal. We also utilize a head and tail assistance device during the recovery process to minimize trauma during recovery.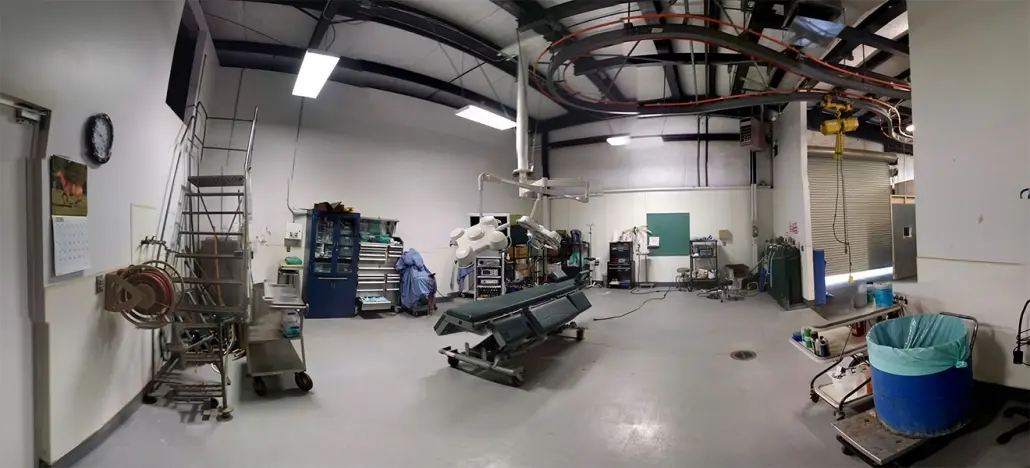 The surgery rooms are equipped with the latest features and equipment to minimize the risk of anesthesia and surgery. Including the use of the
Synergy HD3 Camera System
which revolutionizes endoscopic visualization.
Our center is equipped to handle most elective and emergency procedures.  Including but not limited to emergency abdominal procedures (colic), upper airway surgeries, orthopedic and arthroscopic procedures and cosmetic and integument injuries.  Although the majority of our patients are equine, we also perform surgical procedures on most other large animal including cattle, sheep, goats and exotic hoof stock.
Although having the facilities and equipment is important for the success of the procedure the surgeon and staff are equally important.  Dr Troy Ford is boarded in the American College of Veterinary Surgeons  This distinction means that our surgeon has completed a rigorous training program and examination process that has been established by an organization of our peers that is respected and recognized the world over.  You can rest assured that the surgeon you are working with has the best training, experience, skill and scientific knowledge available to help your animal.