Central to our relationship with the horse is our appreciation of its athletic ability. Lameness, which can be caused by a wide range of issues, impacts the athlete ability and is a source of discomfort for the animal and worry for the owner.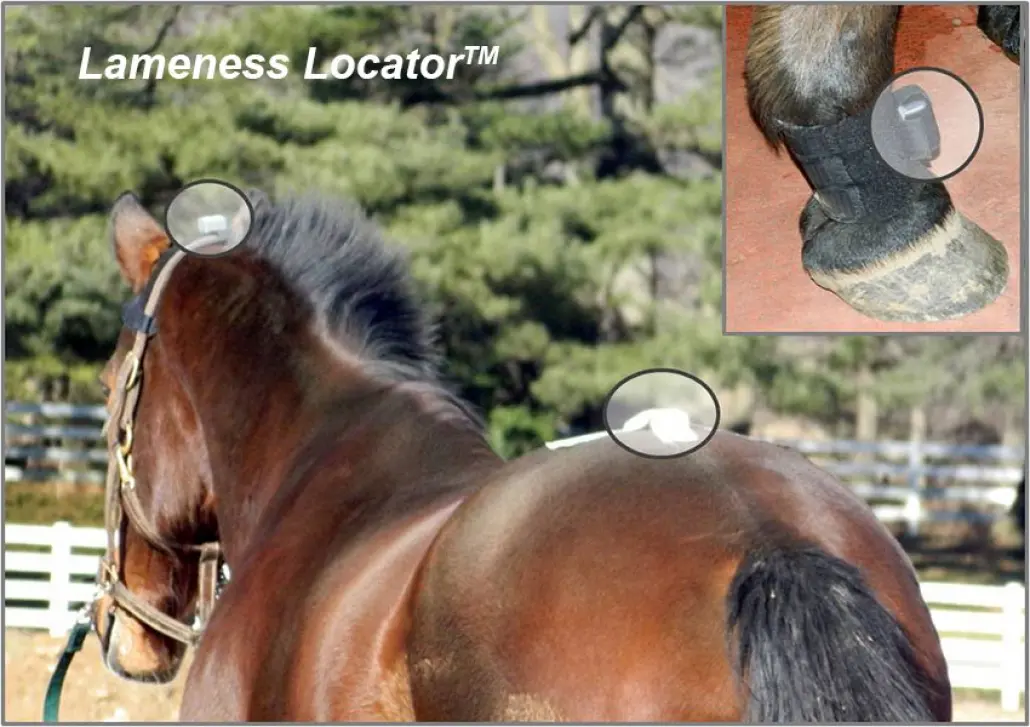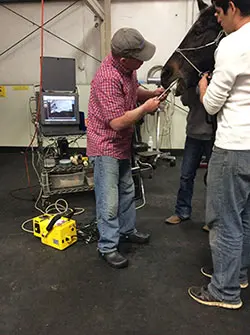 What is the Lameness Locator™ for horses?
The Ford Veterinary Surgery Center uses the Lameness Locator™ and it may be included in lameness examinations. The Lameness Locator™ is a wireless motion analysis system that uses sensors to detect asymmetries in gait that may not be seen by the human eye. The sensor data is based on algorithms developed by years of extensive motion analysis research.ies.
Evaluating Lameness
We believe that good sedation, combined with a clean mouth and proper instruments are key elements of a good thorough dental. A good thorough dental exam should be done at least once a year for most adult horses. In some horses, we recommend dental work to be done every six months. Our routine services include:
Evaluating lameness requires the skills of the equine veterinarian. Lameness may be caused by pain, a physical problem, or a neurological condition. Most problems arise from the musculoskeletal system (muscles, tendons, ligaments, bones, or joints), leading to abnormal movement at the walk, trot, or canter. 
Lameness examinations include a physical exam, lameness evaluation and diagnostic analgesia (nerve and joint blocks) in order to localize the area of the lameness.  The newly constructed Ford Equine Lameness and Evaluation Pavilion (indoor arena) provides a safe place to evaluate horses while lunging or being ridden. The lameness clinician is assisted by skilled sports medicine technicians that are experts in horse handling and restraint, alleviating the clients of the need to jog their horses for evaluation.
Gait analysis:  The Lameness Locator® system is available for the lameness evaluation.  The Lameness Locator* objectively assesses the horse's movement. Small, wireless body-mounted sensors are applied to the head, leg and pelvis.  Data is analyzed quickly and helps to determine the limb or limbs involved and the severity of lameness.
 How does the Lameness Locator™ work?
Motion sensors are placed on the horse's poll, pastern and pelvis, and are wirelessly tracked by a portable computer. The quantifiable data is transmitted to the computer instantly, helping pinpoint subtle, difficult or multiple lamenesses and quantitate lameness of all varieties. The sensors weigh less than 30 grams each and do not affect the evaluation.
The data from the sensors can show the location (limb(s)) of asymmetry in the gait, the severity of the lameness, and at what stance in the gait the lameness appears.
Estimated time for completion of service
Simple uncomplicated lameness examinations may be performed on an outpatient basis and the typical appointment is 1-3 hours. Complex or complicated lameness examinations may require hospitalization and multiple examinations.
Requirements
When available, please bring previous imaging (radiographs, ultrasound images, MRI, etc.), details of previous lameness examinations and treatments with you to the appointment.  It is also recommended that you bring your tack in case the horse needs to be evaluated under saddle.  Helmets required.
Therapeutic Techniques to Heal Lameness
Advanced therapeutic techniques are also available at FVSC including:
Joint injection therapy
Legend (hyaluronate sodium) and Adequan (polysulfated glycosaminoglycan)
Polyglycan (Hyaluronic Acid + Chondroitin sulfates C4 & C6 + N-acetyl-D-glucosamine Sterile solution
ACP (Autologous Conditioned Plasma)
IRAP (Interleukin Receptor-Antagonist Protein)
PRP (Platelet Rich Plasma)
Stem cell therapy
Surgical treatment (arthroscopy, tenoscopy, fasciotomy, neurectomy, etc.)
 When is the Lameness Locator™ helpful?
The Lameness Locator™ is a unique diagnostic tool that aids in the diagnosis of lameness. It may be used throughout the lameness examination and aids your veterinarian in localizing a lameness issue for complete diagnosis and appropriate treatment.
After localization of lameness, a variety of imaging modalities can be utilized, including digital radiography and ultrasonography in order to determine the cause of lameness.  When indicated MRI, bone scintigraphy and CT imaging will be referred to an imaging center. Corrective shoeing, if indicated as a component of therapy, at FVSC, we use the team approach.  We work with your farrier to determine corrective shoeing and trimming options.  Horses with complex lameness problems may also need neurological, surgical, and chiropractic work which are readily available in the hospital.
Please visit our Surgery Service for a full description of capabilities.
Pre-Purchase/Performance Examinations
Pre-purchase examination requires an in-depth knowledge of veterinary medicine, as well as a thorough understanding of the discipline of the horse being examined. It involves examination of the eyes, heart, lungs, and thorough palpation of the body and four limbs, as well as other specific areas as required. Its aim is to be predictive, using the same philosophy we apply to all our medical work; namely, always being systematic and thorough.
Breeding stock, performance horse, race horses to Olympic level performance horses, FVSC offers the knowledge and experience to provide the highest quality pre-purchase examination and evaluation services to our clients.
The FVSC performs pre-purchase evaluations, which include a thorough physical and soundness examination with the horse in motion in hand and in harness or under tack, when appropriate for age and training. Digital radiography, ultrasonography, upper airway endoscopy and cardiology are performed when indicated or requested.  Drug screens for forbidden substances are available as well.
Estimated time for completion of service
Pre-purchase evaluation can be performed on an outpatient basis and the typical appointment lasts 1-3 hours.
Requirements
If evaluation of the horse includes work under tack or in harness, appropriate equipment as well as a rider or driver must accompany the horse.  Protective headgear is required for all riders.
To schedule an appointment please contact Troy S Ford at (559) 298.3331 or questions via email at TSF@fordvetsurgery.com.
Appointments may be made by the owner, trainer or referring veterinarian.