Ford Veterinary Surgery Center, Clovis California provides responsive emergency services 24/7 for the peace of mind of horse owners. When you have a sick or injured animal, time is of the essence.

The most common emergency services that horse owners seek out are those related to digestive tract problems that strike horses due to their unique system. Colic, diarrhea and stomach ulcers are the number one killers of leisure and sport horses.
Even a horse that is in perfect health can suddenly experience a bout of colic, which causes extreme pain and rapid death if left untreated. It's important to know the symptoms and causes of digestive distress in your horse, so you can call FVSC emergency services immediately.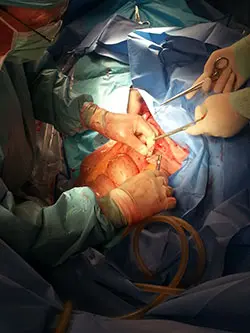 Our veterinarian and technicians understand how critical emergency services are to your horses' well-being. That's why we have a full service emergency clinic located just a short drive from Fresno and Sanger, plus two fully-equipped ambulatory trucks.
Excessive Parasites (intestinal worms)
Moldy or spoiled hay, grain or forage
Overeating rich grains or overgrazing the same areas
Excessive sand, rocks or clay ingested
Allowing a hot horse too much or too cold water
Feeding a horse grain too soon after working
Heat cycles and pregnancy in mares
Every year, hundreds of horses experience emergency medical needs, which can range from falls and lacerations, to serious digestive and reproductive related problems. While some of these emergencies can be avoided by routine vet checks, careful handling and transportation, in some cases there is no way to foresee an equine emergency.
When an emergency occurs involving your horse, you need an equine clinic that can give you timely information and immediate veterinary care. This can make the difference between life and death.
Typical Symptoms of Equine Colic:
Unusual restlessness or unease in a generally calm horse
Nipping, pawing or kicking at the abdomen or flanks
Getting up, rolling and laying down more frequently
Stretching, standing or resting in unusual positions
Rocking or pacing uncontrollably in the stall or field
Repeatedly changing position and weight on hind legs
Diarrhea
Sweating and flinching excessively during rest periods
Frequent jaw and mouth movements and flipping the top lip up indicate discomfort
Heavy or labored breathing or a throaty cough
Increased heart and breathing rate
Reddening of the whites of eyes
If you notice any of the above symptoms, you will want to call FVSC immediately for emergency services. You know your horse better than anyone, so if your animal is acting out of the ordinary and you suspect colic, or another emergency health condition, just give our equine veterinarian a call for support.
Our Goal
The goal of FVSC is to make sure you get professional veterinary care for your horse if an emergency comes up. We have the best diagnostic and emergency care equipment and well-trained staff available to support this goal. When you call on our team, you can expect our equine veterinarians to respond quickly to treat and get your horse back to health as soon as possible.
We understand horses at all levels and can give you the advice and veterinary care you need to keep your horse healthy. If there is an emergency present, we will dispatch our ambulatory unit to your location.
Look to the caring, well-trained veterinary staff at FVSC for your horse's emergency services anytime, and anywhere you need us. For more information on routine and emergency services, please contact us at (559) 298.3331. After hours call (559) 314.4806