The FVSC's Laboratory services are absolutely vital to monitoring the condition of your most important investment: your horse. Without accurate testing methods, you might not see a health issue as its getting worse or before the problem shows itself. Just knowing that your horse has a clean bill of health can help you enjoy many more years. Many of these tests are performed at the hospital and take less than 10 minutes to obtain accurate results.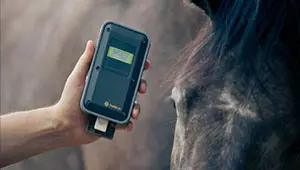 With the use of FVSC's new StableLab handheld reader, lab-accurate results can be given at the horse's side. It works by measuring Serum Amyloid A (SAA), a mojor acute phase reactant. Under normal healthy conditions SAA is not detectable. However levels increase within 12-24 hours after the onset of infection or certan other inflammatory conditions.
Our equine laboratory services are designed to keep you informed at all times of any possible health concerns. Some of the many equine laboratory services that FVSC provides include, but are not limited to:
Equine Fluid Testing: plasma, whole blood, spinal (CSF), semen, abdominal, urine, joint fluid analysis and more.
Pathology Panels: complete blood cell counts (CBC), electrolytes, Equine profiles, muscle, liver and renal panels, hormone levels, plasma protein, IgG testing, cytology, cultures, fibrinogen, Serum Amyloid A (SAA) and more.
Reference Laboratory: equine infectious anemia (coggins: VS Form 10-11) testing, tissue biopsies, and many more.
Post-Mortem: Necropsy fluid and tissue testing, disease identification and more.  Necropsies can be performed in-house or done at CAHFS, Tulare, California – 559.688.7543 referral needed.
In some cases, testing is performed off site by IDEXX laboratories or CAHFS laboratory.  Turnaround time for these tests will vary according to the test r
Because horses have such a complex system, having access to routine health panels and laboratory services should become a part of your regular equine maintenance plan. Just because your horse is not displaying symptoms of a disease, does not mean that it may not have an underlying issue.
The West Coast states continue to have an ongoing problem with equine infectious anemia, rabies and other communicable diseases. Many of these health issues are preventable, if they are caught early through laboratory testing. For horses with disabling conditions or suffering from diseases, laboratory services are absolutely necessary to give the animal a higher quality of life through on-going veterinary care.
Look to the caring, well-trained veterinary staff at FVSC for your horses laboratory services anytime, and anywhere you need us. For more information on routine and emergency laboratory services, please contact us at (559) 298-3331.