About Our Practice
Established in 1996, Ford Veterinary Surgery Center has provided the Central Valley of California a service for the large animal patient. Our facilities are fully equipped to handle most cases. Our services provide 24/7 emergency care, day and night, including hospitalization with 24 hour staff monitoring, in house laboratory equipment for immediate diagnostics, local ambulatory service and a referral center for surrounding veterinarians.

Our Mission & Vision
The goal of FVSC is to make sure you get professional veterinary care for your horse if an emergency comes up. We have the best diagnostic and emergency care equipment and well-trained staff available to support this goal. When you call on our team, you can expect our equine veterinarians to respond quickly to treat and get your horse back to health as soon as possible.
Our facilities are fully equipped to handle most cases.  In our hospital we provide digital radiography, ultrasound, endoscopy, and a fully equipped pharmacy to provide the medications needed for immediate treatment and a state of the art surgical suite.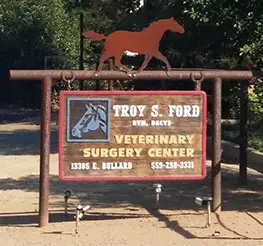 We provide surgical procedures ranging from colic surgeries, orthopedic and arthroscopic procedures and upper airway surgeries.  However we perform all aspects of surgery.  We also provide access to experts in certain specialized areas of surgery that complement our surgical services.  Our clinic also specializes in lameness examinations utilizing the Lameness Locator from Equinosis for difficult lameness providing an objective evaluation of the patient, capable of identifying single or multi-limb lameness.  We also utilize regenerative cell therapy including PRP, ACP, IRAP and stem cell therapy.  We have a reproductive service capable of breeding your mares and collecting your stallions and also have the capability with collaboration with experts of performing embryo transfer, semen collection and receiving, and freezing semen and storage.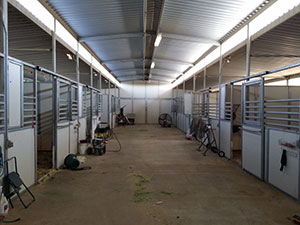 We realize that economics play an important role for the client in the treatment of their patient.  As a result, we work with our clients to provide the most economical and compassionate treatment plan that can be afforded by the client without jeopardizing the health of the animal.
Our staff understands that unexpected emergencies and illnesses can have a profound economic and emotional effect for the owner and at our clinic we strive to provide a compassionate approach to each patient tailored to each owner's situation.
Please feel free to contact us should you have any questions or inquires into our clinic.
Take A Tour of Our Facility
We gladly give individual or group tours of our clinic.  If you call and schedule an appointment we can try and schedule it when Dr. Ford, our Board Certified Surgeon, is doing surgery.
Dr. Troy Ford, a Diplomate of the American College of Veterinary Surgeons (ACVS) received his Doctor of Veterinary Medicine degree in 1985 from UC Davis. Following graduation he completed a one year internship in Large Animal Internal Medicine and Surgery at New Bolton Center, University of Pennsylvania. Dr. Ford then specialized in surgery by completing a three residency in Equine Surgery from the University of Pennsylvania, New Bolton Center. While at New Bolton Dr. Ford did research in the various blocks of the equine leg. This breakthrough research won him the ACVS award Most Outstanding Research Project. He also did research in the upper airways of the equine.
Dr. Ford spent time working with Dr. William O Reed at Belmont and Aqueduct race tracks and in Kentucky at various clinics before joining the faculty at Texas A&M in Large Animal Surgery in 1989. Dr. Ford and his family moved to College Station, Texas to work at Texas A&M University as an Equine Surgeon. During his time at Texas A&M university he became board certified in surgery in both small and large animals. He passed his boards in 1990. Dr. Ford eventually relocated back to his home roots in the Central Valley of California where along with his wife established Ford Veterinary Surgery Center in 1996.
Dr Ford and his wife Mardee live in the foothills of Clovis where they have raised their three boys, Steven, Matt and David. All three have played an active role in helping establish their veterinary clinic from cleaning stalls, being a technician to answering phones. Currently Matt is attending Veterinary School at Colorado State University. Matt is a freshman at CSU School of Veterinary Medicine. Matt plans to do an internship and residency in either internal medicine or surgery after the completion of veterinary school.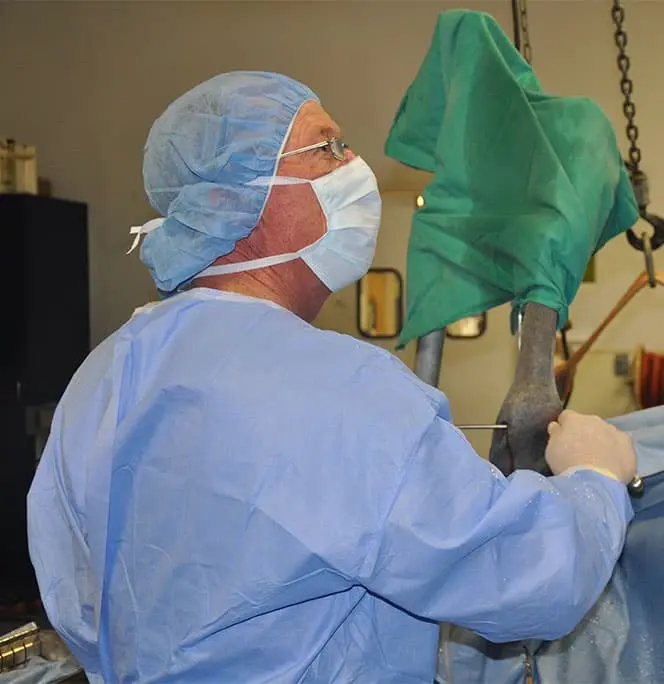 What is an ACVS Surgeon?

We know that choosing a veterinarian is not much different than choosing a medical doctor, accountant, attorney, or any other professional service provider. Just like when you choose one of these professionals you want to have some assurance that the individual you have started a relationship with is the best trained and most competent for the job. Our surgeon is board certified in large animal surgery. This distinction means that our surgeon has completed a rigorous training program and examination process that has been established by an organization of our peers that is respected and recognized the world over. You can rest assured that the surgeon you are working with at Ford Veterinary Surgery Center has the best training, experience, skill and scientific knowledge available to try to help your equine athlete return to the ring or your four legged friend to be as comfortable as possible. Through continued training and education we strive to provide the best possible service and care. Please follow the link below to learn more about what it means to be a Diplomate of the American College of Veterinary Surgeons.
Highly trained professionals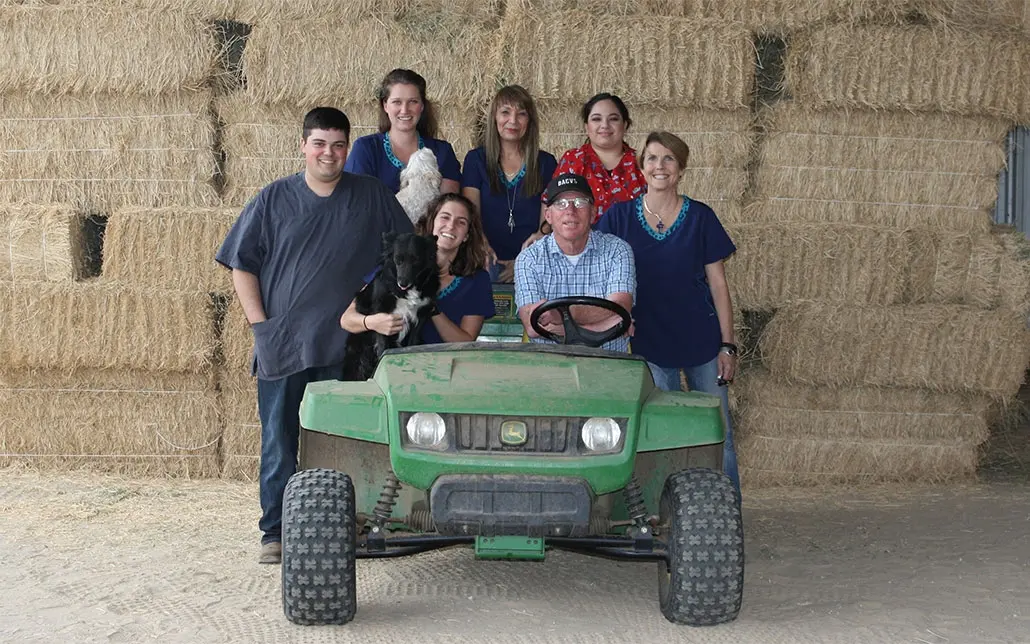 Mardee Ford
Mardee has been with Ford Veterinary Surgery Center since the very beginning when it was only a truck and a converted garage the year 1993. When Mardee is not at the clinic or with her three sons, she loves to ride, work with her Labrador Retrievers, snorkel and scuba dive and be on a beach in a hammock with a drink in her hand.
Leann Seroka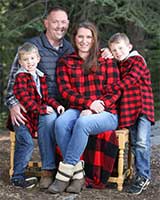 Leann first joined the Ford Team back in 2004 as a ROP student through the CUSD Veterinary science program as a junior at Buchanan High School. Leann grew up in Clovis and had minimal experience with horses. She approached a local vet and was turned away because he didn't want to take a chance on a student that had little experience. Dr. Ford took on 2 students that year for the program and Leann was one of them. Leann grew to know that horses were her passion and continued to work for Dr. Ford for 2 more years. Since then she has worked at two large ranches and a small animal clinic in Clovis while going to school at Fresno State University. Leann followed her passion to become a veterinarian technician through the VASE program. Leann married her husband Dustin in 2010 and moved to the central coast. Together they had Wyatt and John. In 2015 they moved back from the central coast and Leann rejoined the Ford Team helping care for patients over the weekend. More recently Leann has started working in our front office and also helping with the small animals when necessary. Leann enjoys raising and working with her horses on her off hours.
Matt Ford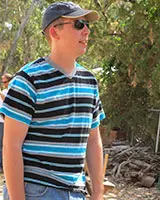 Matt has literally grown up at the Ford Veterinary Surgery Center. Matt has been working at the clinic since 2004 doing everything from cleaning barn stalls to working the front desk. He recently graduated from Fresno State and was accepted at Colorado State University School of Veterinary Medicine. His devotion to the field veterinary medicine has been there from the very beginning. In his free time Matt loves to cook, snow ski, travel, snorkel and scuba dive.
Susan Martino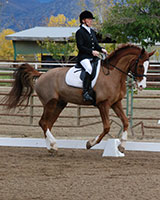 Susan joined the team at Troy Ford Veterinary Surgery Center upon moving to California 7 years ago helping out in many different areas of the clinic, presently in the position of medical record transcription. Born and raised on the East Coast, Susan has lived on the West Coast for approximately 15 years, with the last 7 being in California. She is married with 2 daughters, one born in New York and one born in Texas. While living in Texas she attended the University of Texas at El Paso for business administration. While living in Georgia she became a certified paralegal as well as managing a show barn (jumping and dressage) which housed approximately 45 horses. She is now a registered medical transcriptionist. She has been involved with horses basically her whole life and is currently riding a Hanoverian Dutch warmblood in the discipline of dressage and is currently at 4th level. During her free time she enjoys spending time with her family and riding her horse.